Advantages:
SPC floor has zero formaldehyde, mildew proof, moisture proof, fireproof, insect proof and simple installation.

SPC Foor Manufacturing Process:
Step 1:Material mixing:
Put the material into mixing machine. Hot mixing then cool mixing.
Step 2:Extruding
Put the material into Conical or parallel twin screw extruder. Heating and extruding→die→4 or 5 roller calender→Film laminating→wearing layer laminating→cooling→cutting→auto-stacker. All these procedures are automatically finished in the extrusion line.
Step 3:UV
UV coating
Step 4:Cutting, lock making and packing
Cutting→locking making→inspecting→packing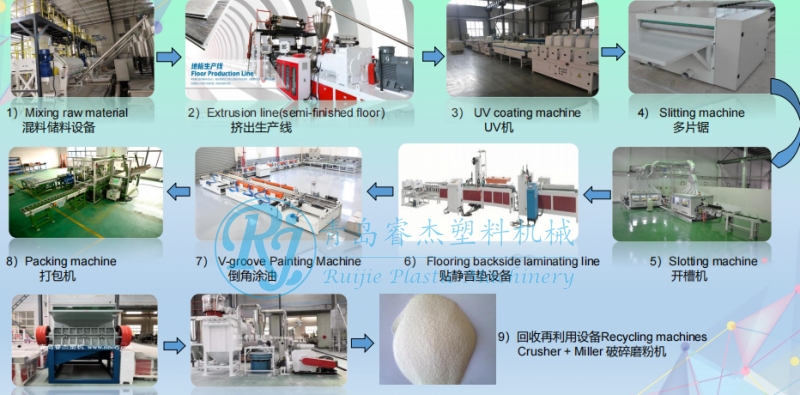 Parameter:
No
Model number
SJSZ110/220
SJSZ115/230
SJSP136
1
Double screw type
Conical
Conical
Parallel
2
Extruder motor
185KW
200KW
160KW
3
Total power
350KW
380KW
300KW
4
Rollers of Calender
Five rollers
Five rollers
Five rollers
5
Capacity
1000-1300kg/h
1600-1900kg/h
1700-2100kg/h
6
㎡/24h

(4mm thick floor as example)

about 3000-3500
about 4500-5500

about 5000-6000
Application scenarios:
SPC floor has a wide range of color patterns to choose from, suitable for indoor home improvement, hotels, hospitals, shopping malls and other public places.