Advantages:
SPC floor advantages
1)Waterproof and Dampproof
As the main component of SPC is stone power, so it performs well with water, and mildew will not happen with high humidity.
2)Fire Retardant
According to the authorities, 95% of the victims were burned in the fire caused by the toxic fumes and gases. The fire rating of SPC flooring is NFPA CLASS B. Flame retardant, not spontaneous combustion, leave the flame automatic out in 5 seconds, won't produce toxic of harmful gases.
3)No Formaldehyde
SPC is high quality stone power & PVC resin, without harmful material such as benzene, formaldehyde, heavy metal.
4)No Heavy Metal, No Lead Salt
The Stabilizer of SPC is Calcium zinc, no lead salt heavy metal.
5) Dimensionaly Stable
Exposed to 80° heat, 6 hours—Shrinkage ≤ 0.1%; Curling ≤ 0.2mm
6) High Abrasion
SPC flooring has a transparent wear-resisting layer, whose revolution is up and higher than 10000 turns.
7) Superfine Anti-sliping
SPC flooring has special skid resistance and wear-resisting layer of the floor. Compared with common floor,SPC flooring has higher friction when it's wet.
8) Low requirement of subfloor
Compared to traditional LVT, SPC flooring has a distinct advantage because it is rigid core, which can hide many imperfections of subfloor.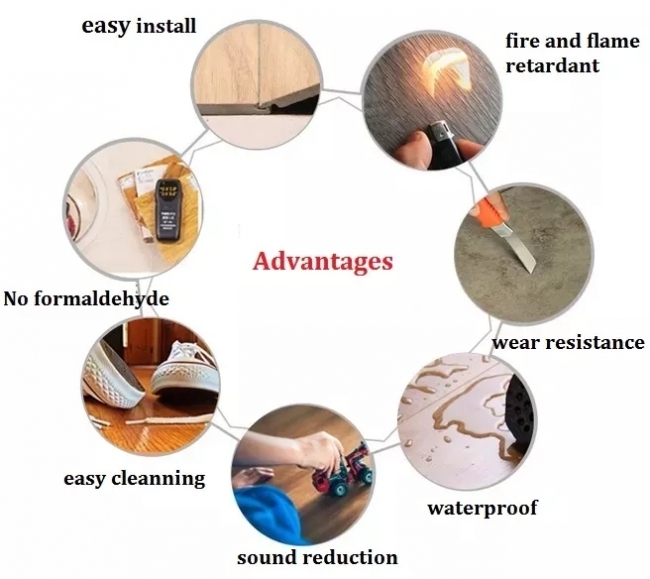 SPC flooring is made of 5 layers. It includes UV layer, wear layer, color layer,SPC base layer and EVA or IXPE layer .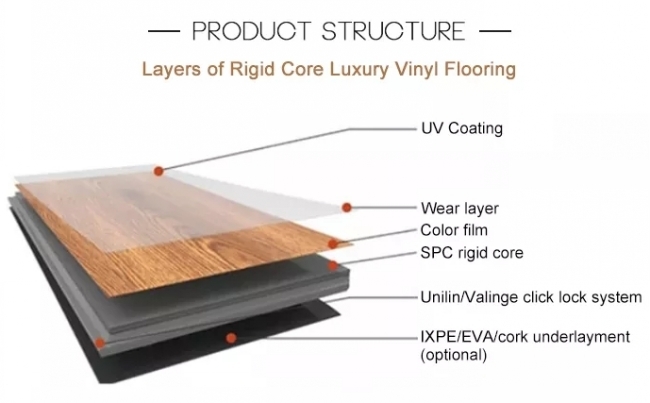 Parameter:
SPC flooring Process Flow
mixer and dust-collection systems(mixing raw material)– extrusion line(semi-finished floor)–UV coating machine–slitting machine–Slotting machine–Flooring backside laminating line –packing machine–finished product(There is crusher and miller for recycled floor product.)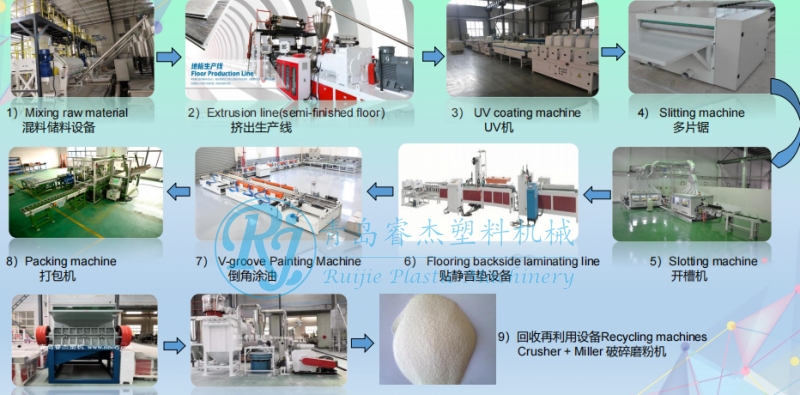 Machine Models
| | | | | |
| --- | --- | --- | --- | --- |
| No | Model number | SJSZ110/220 | SJSZ115/230 | SJSP136 |
| 1 | Double screw type | Conical | Conical | Parallel |
| 2 | Extruder motor | 185KW | 200KW | 160KW |
| 3 | Total power | 350KW | 380KW | 300KW |
| 4 | Rollers of Calender | Five rollers | Five rollers | Five rollers |
| 5 | Capacity | 1000-1300kg/h | 1600-1900kg/h | 1700-2100kg/h |
| 6 | ㎡/24h(4mm thick floor as example) | about 3000-3500 | about 4500-5500 | about 5000-6000 |
EIR (Embossing In Registered) wooden pattern effect
EIR wooden pattern film is pressed by EIR wooden pattern roller,The patterns on the color film coincide with the wood grain of roller to achieve a more realistic solid wood effect.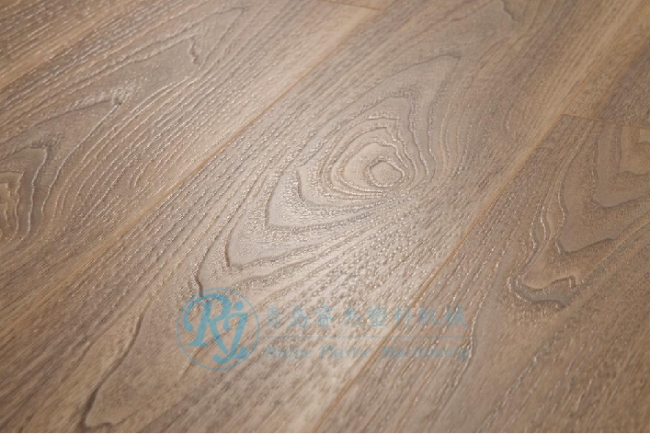 Application scenarios:
SPC floor has a wide selection of designs, suitable for indoor home improvement, hotels, hospitals, shopping malls and other public places.